Sports Chiropractic at Funk Chiropractic
If you are active in a sport, being adjusted is essential to staying in the game. You want your body to move and function the way it's designed to. That's the only way you can perform at your best ability!
If you have limited mobility in an area-whether your arms, legs, back or neck-it will limit your performance. By keeping your entire body working as it should, you can achieve your best level yet.
Recover From an Injury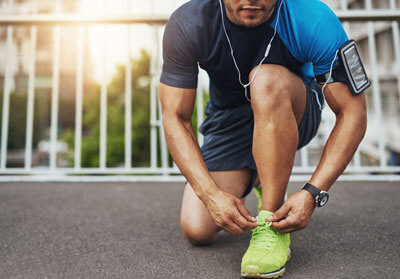 You don't have to experience an injury to benefit from chiropractic care. It's a common reason, however, that many athletes see a chiropractor. We can help you recover, then make sure you know the proper strength and stretching exercises to protect different regions of the body. That will give you the power to limit your injuries, which are always a big risk due to the repetitive nature of most sports.
Exercise Plans Available
Dr. Funk teaches a variety of different exercise plans based on specific injuries or regions of the body that need to be improved. You'll receive an exercise plan as a part of your care with us, ensuring that your body works to its full capacity.
You can get a sports physical at our office even if you have never been a patient with us. They're typically completed for high school-level athletes. All you or your child need to do is bring in the required form that your school or organization provides. We'll go through each requirement, which may include
Listening to the heart and lungs
Feeling the abdominal area
Orthopedic mobility testing
Checking basic vital signs
You can think of a sports physical as a general health checkup, making sure that you can safely engage in the physical activity associated with your sport.
Do pro teams see a chiropractor?

Yes! There is a chiropractor on professional sports teams, ensuring that top-level athletes always have access to chiropractic. There are plenty of stories shared on social media and even documentaries made all about the benefits of chiropractic for athletes.
Do you have sports expertise?

Yes! Dr. Funk has been a soccer player for years and years. As he's now in his 40s, it's important that he keeps up with the players half his age that he's in leagues with. Being adjusted allows him to remain active in soccer and do everything he wants to do. Dr. Funk understands the toll that sports take on the body and exactly how to rehab specific injuries, as well as improve performance.
What types of athletes do you see?

There are no specific types of athletes that are most suitable when it comes to seeing a chiropractor. We see athletes from soccer, football, baseball, softball, gymnastics and more.
Are there certain ages that can receive sports chiropractic care?
All ages are welcome at our office. When it comes to sports, we see elementary-aged kids who play sports or participate in various activities. Many of our
patients are middle school or high school teens
who are active in sports. Then, there are also plenty of adults, from weekend warriors to more elite competitors, who love to get the benefit of what we do.
What kind of solutions do you offer to athletes?

In addition to chiropractic care, we have therapies such as ultrasound, electric muscle stimulation and traction available. Massage therapy is also available on-site, as well as custom-made orthotics. All are accessible to you when you become our patient.
Do you accept insurance?

Yes, and most plans will have some level of coverage for chiropractic. If your insurance does not, or if you are not covered by insurance, we would love to still find a way to work with you. We also offer Military discounts and affordable prepay plans.
Complimentary Consultations
Learn more without incurring any cost or obligation. Contact our team now to book an appointment for sports chiropractic!
CONTACT US »

Sports Chiropractor in Yuba City CA | (530) 300-1000